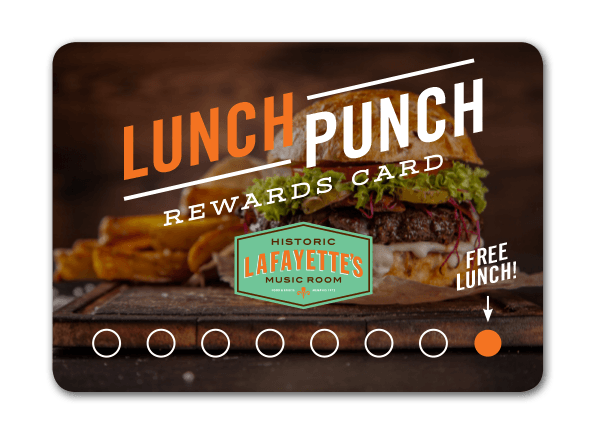 Introducing our Lunch Punch Rewards Card!
Ask for your lunch punch card on your next visit to Lafayettes's from 11 am – 2 pm Monday – Friday and receive 15% off your first lunch entree!
 Visit Lafayette's 8 more times for lunch and your 9th lunch entree is free! *Restrictions apply.
Hours
Sunday - Thursday 11 am - 10 pm
Friday - Saturday 11 am - 1 am
Saturday & Sunday Brunch 11 am - 3 pm
Thanksgiving Day: 4 pm - 11 pm
Christmas Eve: Brunch 11 am - 3 pm
Christmas Day: 4 pm - 1 am
New Year's Eve: 11 am - 3 pm / Reopen for party  at 4 pm
New Year's Day: 11 am - 1 am