thu19jan7:00 pmRoxi Love7:00 pm CST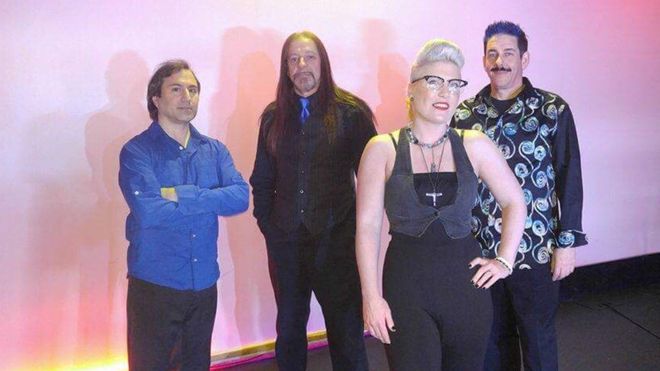 Event Details

Roxi Love is a four-pieceband with more than 100 years of combined gigging experience. They play a variety of music including:Top 40 Pop, Country, Classic Rock, Oldies, R & B, Funk, Reggae, Hip Hop, and Rap.

Traci McCullough,on bass and vocals, isa multi-instrumentalistand has been playing music since the age of nine. She got her start in church playing piano, then moved onto learn guitar and mandolin. In the end, the bass caught her heart and that is the instrument she chooses to play. She is a solid and driving bassist that holds down the bottom. Her playing skills are only topped by her vocals. Sultry and powerful, she wows the crowd with her sound and ability to cross genres with ease.

Andy McCullough,guitarist and vocalist for the band,has been playing since the age of seven and had his first paying gig at the young age of eleven! He has had the honor of sharing the stage with top musicians such as: Wayne Swinny(Saliva), Damon Johnson (Brother Cane), Greg Edmonton (Breaking Point), and more. He has also openedor played for: Grand Funk Railroad, 38 special, Jerry Lee Lewis, Aaron Tippon, and Daryl Singletairy.Andy'sguitar style is a fiery blend of rock blues and funk with his own unique sound. He specializes in harmony vocalsbut will take the lead without hesitation.

Manny Zepeda,keyboardist and vocalist for Roxi Love,has been playing from a very early age. He is very knowledgeable in the synthesized sounds of new and old music. He has a background in music theory and has been playing for a living for most of his adult life. This multi-talentedmusician also plays bassflawlessly and lead and rhythm guitar. His knowledge in theory has helped him land cruise line jobs playing with bands and in orchestral shows. His voice is crisp and smooth. He's got a sound for new and old and everything in between.

Finally, Doug McMinnthe drummer and foundation for the band. Born into a musical family, Doug had his first paying gig at the age of 14. After nine years backing his Dad,the legendary Papa Don McMinnon historical Beale Street, he hit the roadtouring the USA, Canada andEurope. Stage/Studio: Chuck Berry, Percy Sledge, George "Mojo" Buford, Albert King, Rufus Thomas, BB King, Papa Don McMinn, Brandon Santini, Reba Russell, Ace Cannon…He is not only a drummer but an amazing harmonica player and harmony vocalist. His energy and personality areinfectious on and off stage. He is a must-see entertainer.